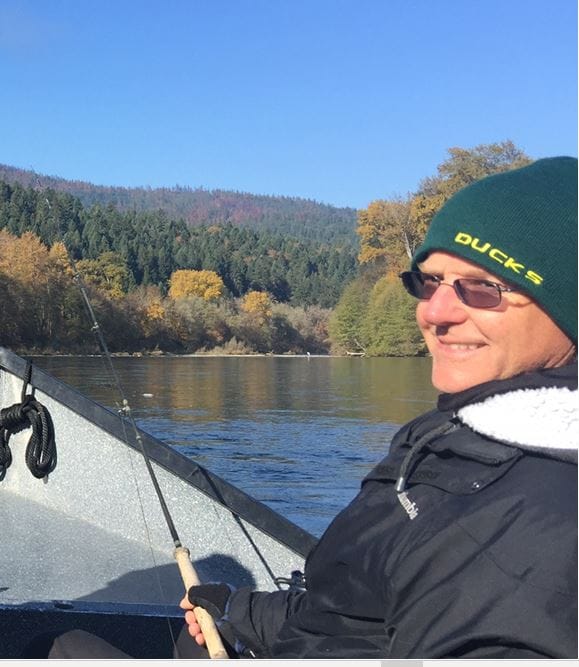 Steve Rouse, President
Steve has lived in southern Oregon's Applegate Valley since obtaining his B.A. from U.C. Berkeley in 1979. He started Rogue Valley Electric and is experienced with builders, developers, and the County land use process. His passion is preserving and restoring Rogue Basin farmlands and floodplain habitats. "Most of southern Oregon's river floodplains are critical habitat for endangered coho salmon and deserve protection. This has been largely ignored during the development process. My Rogue Advocates work provides a voice for the voiceless." Steve previously served on the North Applegate Watershed Protection Association board, co-chaired the Applegate Sustainable Aggregate Project, and co-founded SAVE (Save Applegate Valley Environment).
Hugo Hamblin-Agosto, Treasurer
Hugo Agosto is a Southern Oregon native from Grants Pass. He is a practicing land use professional in governmental and consulting capacities, focusing on housing policy and geomatics. Having previous experience working with various environmental and agricultural protection policies, he values the often complex relationship between growth and preservation. He has a Master's of Urban and Regional Planning and Real Estate Development from Portland State University. He's an avid hiker with his two huskies (Atlas and Nova), and likes to spend his time in the kitchen crafting new recipes with local ingredients.
Pepper Trail, Secretary
Pepper is a retired wildlife biologist (Ph.D., Cornell University) and has been actively involved in the conservation and management of southern Oregon's public and private lands for over 20 years. He has been a leader in the efforts to establish the Cascade-Siskiyou National Monument and to preserve the wildlife habitat provided by the Bear Creek Greenway. Pepper is past President and present Conservation Chair of the Rogue Valley Audubon Society. His goal is to preserve open space, farmland, and wildlife habitat in the Rogue Valley, with the conviction that healthy communities depend on a healthy environment.
Robin Elliott, Board
Robin has lived in Wilderville, Oregon for 45 years, an unincorporated area in Josephine County near Grants Pass. Originally from the Chicago area, she got involved in land use when an aggregate mine was proposed to operate on the road where she lives. After the appeal won at the Land Use Board of Appeals, she joined the Lower Applegate Advisory Committee for multiple years serving as a board member, secretary, and chairperson. Robin holds a bachelor's degree in Art and a Master of Science in Education from Southern Oregon University. She has worked as a teacher, tree planter, production potter, and picture framer. She is an avid gardener, hiker, artist and believes in living a simple and sustainable existence.
Jimmy MacLeod, Board
Jimmy has lived in the Williams Valley for 30 years. He is a wildcrafter, guitar maker, fine woodworker, and subsistence farmer. He has been active for years in the protection of southern Oregon's native forests. Jimmy studied Environmental Education at Sonoma State University, was a docent at Fairfield Osborne Nature Preserve in Sonoma County, California, and has served on the board of the Sugarloaf School, part of William's Sugarloaf Community Association. Jimmy is passionate about organic farming and permaculture and is interested in the promotion of sustainable land use for both rural and urban areas of this bioregion.
Jamie Talarico, Board Advisor
Jamie is an outdoors enthusiast with a passion for fresh food whether it be foraged or farmed. She has lived in Southern Oregon for the last five years but found her love of wilderness after moving to Lake Tahoe California in 2010. After hiking the Tahoe Rim Trail and WWOOFing in various parts of the country Jamie set roots in Ashland to finish her undergraduate business degree at SOU focusing on sustainability and sovereignty of food systems. In Oregon, Jamie has worked in the recreational cannabis industry as a "jack of all trades", but most enjoys connecting with craft producers in the Rogue Valley. She hopes to empower communities to seek education about their natural surroundings.
Maxwell Taylor, Team
Maxwell Taylor is an environmental geologist and K-12 teacher with a passion for advancing public awareness of sustainable policies and community advancements. Originally from San Diego, he moved to the Pacific Northwest in 2014 to study Environmental Geology, earning a B.S. in Environmental Science & Geology and a certification in teaching. With a love for the outdoors, mountain biking, climbing, and overlanding, Maxwell has led climbing expeditions from the coulees of Eastern Washington to the rolling hills of Southern California.
Maxwell has worked to advance his local communities' passion for stewardship and sustainability as a K-12 teacher and environmental activist in Washington State. He now is fully committed to ensuring that the great outdoors and beautiful cities of Rogue Valley remain protected and equitable and is honored and excited to be working with Rogue Advocates on this mission.